Middlesex University, in partnership with JS Group, have set up a joint scheme to help you make the very best of your time at university.
Get your Middlesex University Voucher account with £10 credit
Use your Middlesex University Voucher at JS Group to buy books, stationery and more online

FAQs
Getting the bursary
Q. Who is eligible for Middlesex University Voucher scheme?
A. All undergraduate and postgraduate taught students at Middlesex University London are eligible for the scheme.
Q. How do I get the £10?
A. Once you've completed registration eligible students will be emailed confirmation. They will receive a username and password for the Middlesex University Voucher scheme web portal (www.js-middx.co.uk/middx)
Q. Can I have the £10 in cash rather than a credit?
A. No. The £10 is only available as a credit to your Middlesex University Voucher scheme account.
Q. Can I transfer my £10 to a friend/relative?
A. No. The credit is not transferable to another individual.
Q. Can the £10 be withdrawn once it has been credited?
A. In certain circumstances the accounts of students may be frozen or closed during this period and any unspent credit cancelled, e.g. when students leave the University or if there is any misconduct in relation to their accounts.
Spending the credit
Q. Where can I spend it?
A. The £10 will come in the form of credit which will be directly credited to your individual Middlesex University Voucher scheme account with the JS Group via their Aspire Platform and can be used to purchase items at the Web portal https://www.js-middx.co.uk/middx
Q. What can I spend my funds on?
A. You can spend your funds on a variety of products relating to your studies and exhibited on the JS Aspire platform for Middlesex University. This includes books, stationery, electronics, bags etc
Q. Do I have to spend the money all at once?
A. No, but credit must be used before the 31st May 2022
Q. Do I have to pay the £10 back when I leave the University?
A. No, this is an award designed to support you in your studies and does need to be paid back.
Q. Will I receive any unspent credit in cash when I leave the University?
A. No, your account will be closed on the 31st May 2022 and unspent bursary funds will be forfeited.
Q. What if I want to buy something that is worth more than £10?
A. You can use your credit towards the cost and top up the difference with your own credit/debit card.
Buying products from the Aspire website
Q. I've tried using the online store but am having technical problems. Who can I contact for help?
A. Contact mx@johnsmith.co.uk
Q. Who can I ask if I have questions?
A. The JS Group is the supplier that the University has appointed to run this award scheme and questions should be directed to them. They have an email address for any queries please email: ku/oc/htimsnhoj//xm
Q. Where will my items be delivered to?
A. You can choose the best address for your items to be delivered to. Ideally this might be a home address or your new halls of residence - we don't recommend having valuable items delivered to the halls of residence as it may be difficult to get them securely signed for. If you don't have a suitable address where your items can be securely delivered please contact the Voucher team at ku/oc/htimsnhoj//xm to arrange a suitable collection point.
See below for support in logging into your account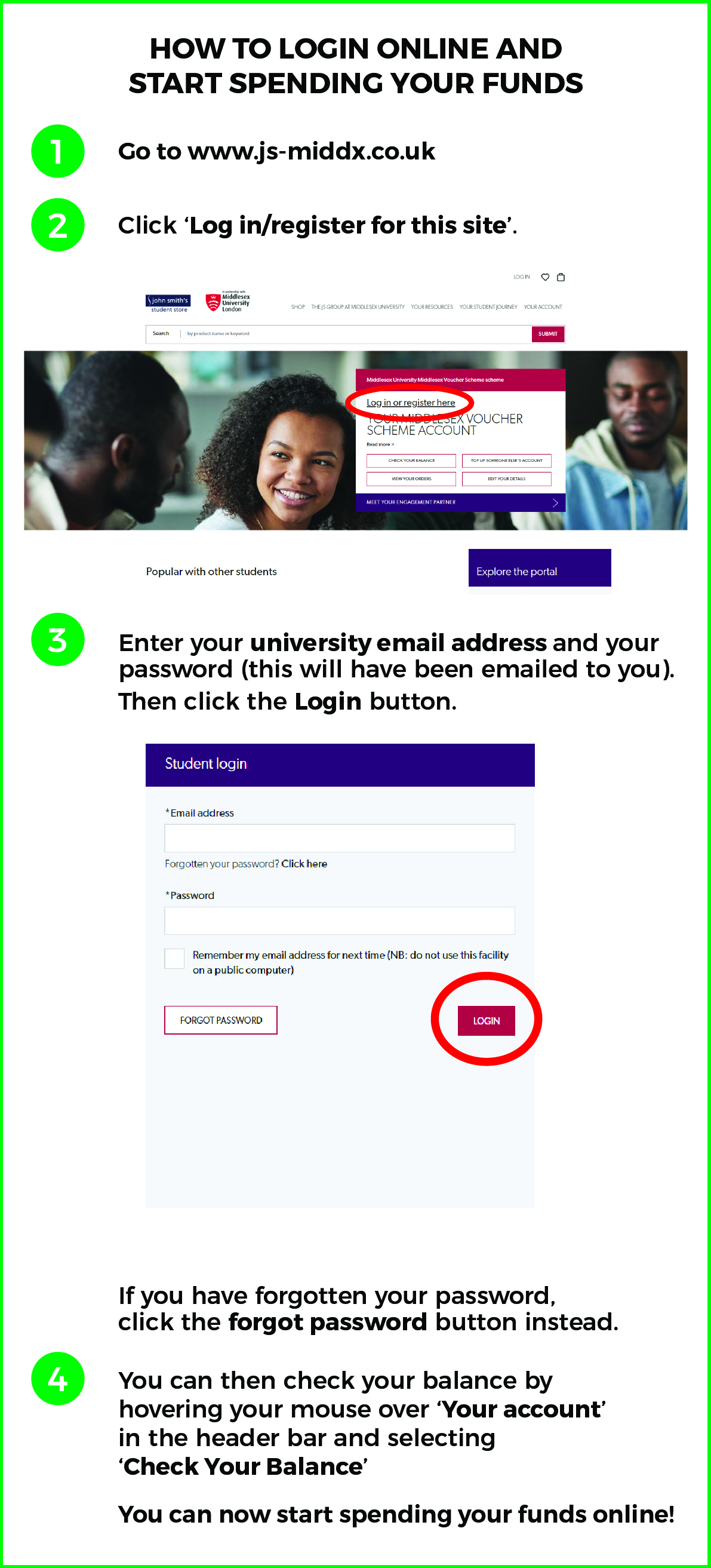 Data
Q. What will happen to the data I share?
A. Your data will be stored securely by the JS group until the contract ceases on 31/05/2022 more information can be found here: https://studentstore.jsgroup.co.uk/cookie-privacy